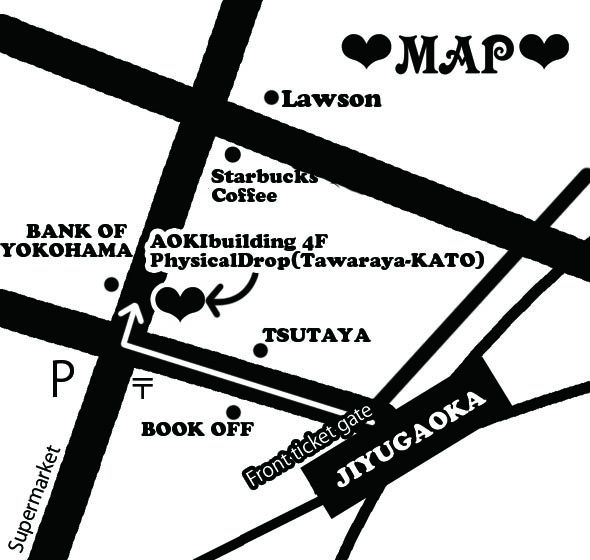 PhysicalDrop(Tawaraya-KATO) TokyoShop★★

******************************************
Business hours:
weekday→open13:00~close20:00
Saturday&Sunday(Holiday)→open11:00~close19:00
Fixed holiday:
Monday&Tuesday
...The place of a store:
Tokyu Toyoko Line Jiyugaoka Station
♪♪walks 2 minutes from Jiyugaoka Station♪♪
Aoki-biru401
2-10-14 jiyugaoka meguro-ku Tokyo
TEL:03-3718-7774(only Japanese)
******************************************
★★The route to a shop【PhysicalDrop Tawaraya-KATO】★★
【1】Please come out of a front ticket gate.
(south ticket gate is not come my shop)
【2】Ticket gate is your back side & Please go straight on.
【3】Please go on a little.【TUTAYA】is on the right and 【BOOK OFF 】is on the left.
【4】Please turn at the 1st crossing to the right.
It bends and is a certain building immediately!!
The building which has a tobacconist,General store and a nail salon in the first floor is the Aoki building.
It is an entrance with a green color roof!
【5】Please open the glass door between a general store and a nail salon, and enter.
Tawara-ya KATO(俵屋KATO) is written on the 4th floor at direction board.
Please go up to the 4th floor in an elevator.
★Please be careful★
A shop is Japanese style. Please take off shoes and enter.
When the hole is open in socks,,,,please wear slippers promptly★★★
Although the staff can speak only Japanese, we help shopping kindly.
Various credit cards can be used.
We are waiting for your coming to the shop♪♪
Thank you!!
KatoKuniko